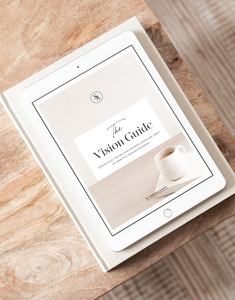 The Vision Guide - a comprehensive planner to define your purpose and effectively craft a vision and mission statement for your business.

Get your creative juices flowing with The Vision Guide. The goal of this guide is to help entrepreneurs define their business vision and mission statement. A business without a vision does not have a clear direction of where it's going or how it's going to get there. This guide is here to help you strategically define what your business stands for and where you want the business to go helping you have a better idea of where to focus your time and efforts.

PLANNER INCLUDES:


- defining your purpose
- building a customer persona
- mind mapping
- the difference between vision and mission
- checklist
- list of keywords
- strategic questionnaire
- goal planner
- actionable items checklist

Print this planner at home and as many times as you need. This planner can also be used on your tablet.