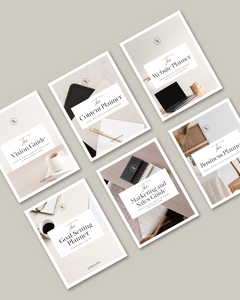 Lay the groundwork for a successful branded business with this set of beautifully designed planners. Each one helps you carefully strategize and implement important aspects of growing your business. Together, this set of planners will ensure your business has a clear action plan, an authentic brand, and content crafted specifically for your ideal audience.
WHAT'S INCLUDED
• The Business Planner: Create a strategic marketing plan for your business.
• The Vision Guide: Define your business vision and craft an impactful mission statement.
• The Content Planner: Develop purposeful social media content that aligns with your business goals.
• The Goal Setting Planner: Identify your biggest business goals and create actionable steps to reach them.
• The Font Guide: Learn how to select the right fonts to represent your business.
• The Color Guide: Create a color palette that sets the overall look and feel of your brand.
• Plus! A bonus workbook to help you define your ideal audience.
Print these planners at home and as many times as you need. This planner can also be used on your tablet.