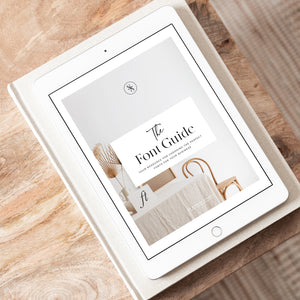 Choose the right fonts to represent your business. This comprehensive guide will help you understand font vocabulary, select fonts that reflect your brand and pair them to create a professional and stylish look for your business. Complete our branding questionnaire that helps you pick the right font for your brand's message and marketing goals. It also includes The Ultimate Font Library, a 14-page resource with over 100 designer-approved fonts, where to download them, and how to pair them.
WHAT'S INCLUDED
- font basics
- font vocabulary & the definitions
- how to style different fonts
- how to pick fonts that aligns with your brand
- pairing tips
- the ultimate font library
- over 100 designer-approved fonts
Print this planner at home and as many times as you need. This planner can also be used on your tablet.