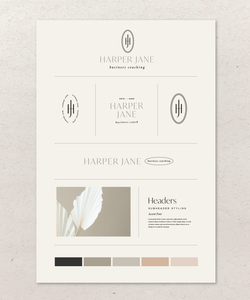 Create a high-end brand design that reflects your style in less than a week. Our semi-custom branding suites are fully customizable and only sold 5 times. We take the designs and customize them with your business name and color preference so the designs are unique to your business style. 
You will receive a
- PRIMARY AND SECONDARY LOGO DESIGN
- SUBMARK AND EMBLEM DESIGN
- WATERMARK (WHITE VERSION OF YOUR LOGO)
- PROFESSIONAL FONT PALETTE
- CUSTOM COLOR PALETTE WITH COLOR CODES
- CUSTOM BRAND BOARD FOR EASY STYLING
 
The branding suites were made as an alternative to the custom design process, giving those with a smaller budget or shorter timeline an opportunity to access elevated and cohesive branding for their growing business.