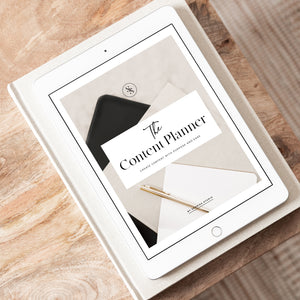 The Content Planner - 

Plan and schedule your social media content with purpose and ease with this comprehensive content planner. The content you share to social media should be as intentional as the content and copy you share on any other marketing platform. You need to clearly define what you want your social media strategy to achieve for it to be effective. This guide is here to help you plan and execute a strategic plan for your social media pages. 

WHAT'S INCLUDED

- social goal setting
- brand messaging
- define ideal audience
- 30 days of content
- hashtag planner
- imagery
- content creator
- scheduling tools
- brand essentials

Print this planner at home and as many times as you need. This planner can also be used on your tablet.